Saint Josemaria was born on January 9, 1902. Here are four videos about his life and teachings.
For Saint Josemaria's birthday on January 9, we offer some excerpts from an article published by "Real Clear Religion" entitled "The Tweetable Saint."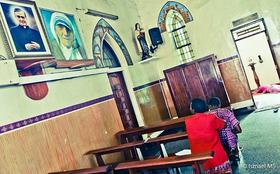 A new video of Saint Josemaria offers 44 brief clips from his oral preaching between 1972 and 1975 in Europe and Latin America. It can be downloaded or purchased from Beta films with English subtitles.
If you don't keep in touch with Christ in prayer and in the Bread, how can you make him known to others? (The Way, 105)
Try to give thanks to Jesus in the Eucharist by singing the praises of Our Lady, the Virgin most pure, without stain, who brought forth the Lord into this world. And, with childlike daring, say to Jesus: My dearest Love, blessed be the Mother who brought you into this world! I assure you it will please him, and he will put even greater love in your soul. (The Forge, 70)
Seek God in the depths of your pure, clean heart; in the depths of your soul when you are faithful to him. And never...

"Sanctifying one's work is no fantastic dream, but the mission of every Christian - yours and mine."
SAINT JOSEMARÍA

, Founder of Opus Dei